–> Location receives over 1.45 million street traffic exposure annually <–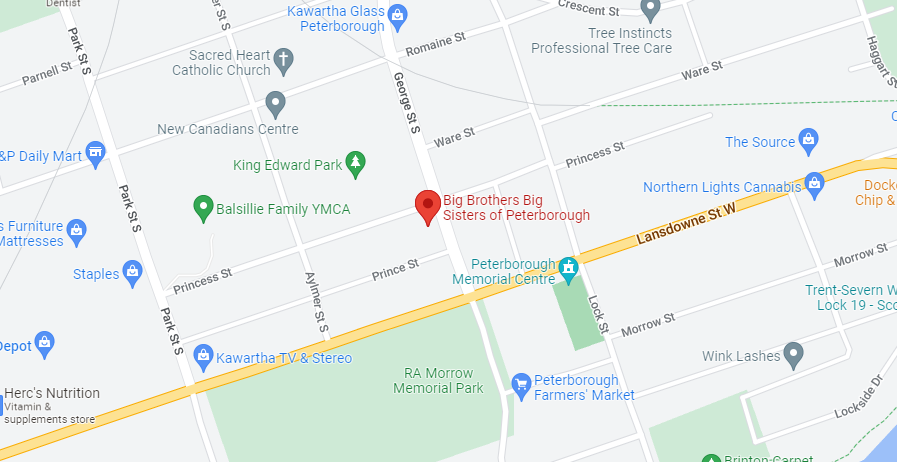 Select the link below to make your donation (one-time or monthly).
You can also send your donation by cheque to:
"Big Brothers Big Sisters of Peterborough"
483 George Street South
Peterborough, ON     K9J 3E6
Want to partner with us in an even BIGGER way?
Ask us about our Title Partner opportunities.
Partnership opportunities include the following for 1 year:

– Upper Level full colour logo on Big Believer Sign (George St at Princess)
– 4 "Thank you" posts on all social channels
– Logo on "Our Partners" homepage marquee and Big Believer webpages
– Framed appreciation for your workplace
– Access to opportunities on event materials and promotional material
– Lunch and learn sessions
– Receive match relationship updates and special event notifications

– Medium logo on Big Believer Sign (George St at Princess)
– 3 "Thank you" posts on all social channels
– Logo on our Big Believer webpage
– Framed appreciation for your workplace
– Receive match relationship updates and special event notifications

– Name on Big Believer Sign (George St at Princess)
– 2 "Thank you" post on all social channels
– Name on our Big Believer webpage
– Framed appreciation for your workplace
– Receive match relationship updates and special event notifications

– "Thank you" post on all social channels
– Name on our Big Believer webpage
– Receive match relationship updates and special event notifications