BiggerTogether 50/50 Raffle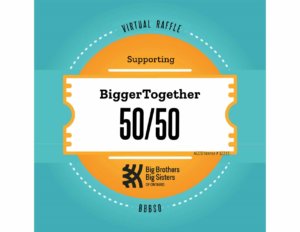 The Peterborough chapter of Big Brothers and Big Sisters of Ontario is excited to announce a brand new way for you to support our mission across the province of Ontario and WIN BIG!
The traditional fundraising events we have hosted which brought our community supporters together are not possible at this time but the needs of at-risk children do not stop and neither will we. Starting today, and every month, you can buy tickets for the BBBSO BiggerTogether 5050 Raffle for your chance to win one half of the jackpot. This program is being supported by over 35 participating BBBSO agencies across the province and your support will go a long way to helping us help at-risk children and youth in our community find a match with a nurturing, caring adult.
 Our first raffle has a $5,000 guaranteed take home prize and if you enter now you have a chance to win a $500 early bird prize!
Click here to buy tickets
You must be 18 years of age to enter and you must be located within the province of Ontario to buy.